Japan urges Taiwan's participation in World Health Organization assembly
by Lorene Schwartz
in People
— May 20, 2020
China supports an "comprehensive evaluation" of the global response to the coronavirus pandemic after it "has been brought under control", President Xi Jinping told the World Health Assembly on Monday. Chinese President Xi Jinping made the announcement by videoconference at the start of the annual assembly, marking a sharp contrast to the United States. "China calls on the global community to increase political and financial support for World Health Organization so as to mobilize resources worldwide to defeat the virus", Xi said. "We have done everything in our power to support and assist countries in need".
The pandemic has killed more than 310,000 people globally.
Xi also said it would be better if the investigation was conducted once the pandemic was controlled, after more than 100 countries signed a resolution asking the World Health Assembly to investigate China, where the coronavirus was first detected.
China has repeatedly said now is not the time for such an investigation, which could look into allegations that the country suppressed information and bungled its response to the initial outbreak.
The Chinese president also said that China along with the United Nations will set up a global humanitarian response depot and hub in China.
According to the scholars, Xi's speech upholds the vision of building a global community of health for all and demonstrates China's sense of responsibility amid the crisis.
Seeking attention for African nations, Xi said China will establish a "cooperation mechanism" for its hospitals to pair up with 30 African hospitals to help the continent ramp up its disease preparedness and control capacity.
This year's WHA meeting is the fourth year in a row that Taiwan has not been able to attend.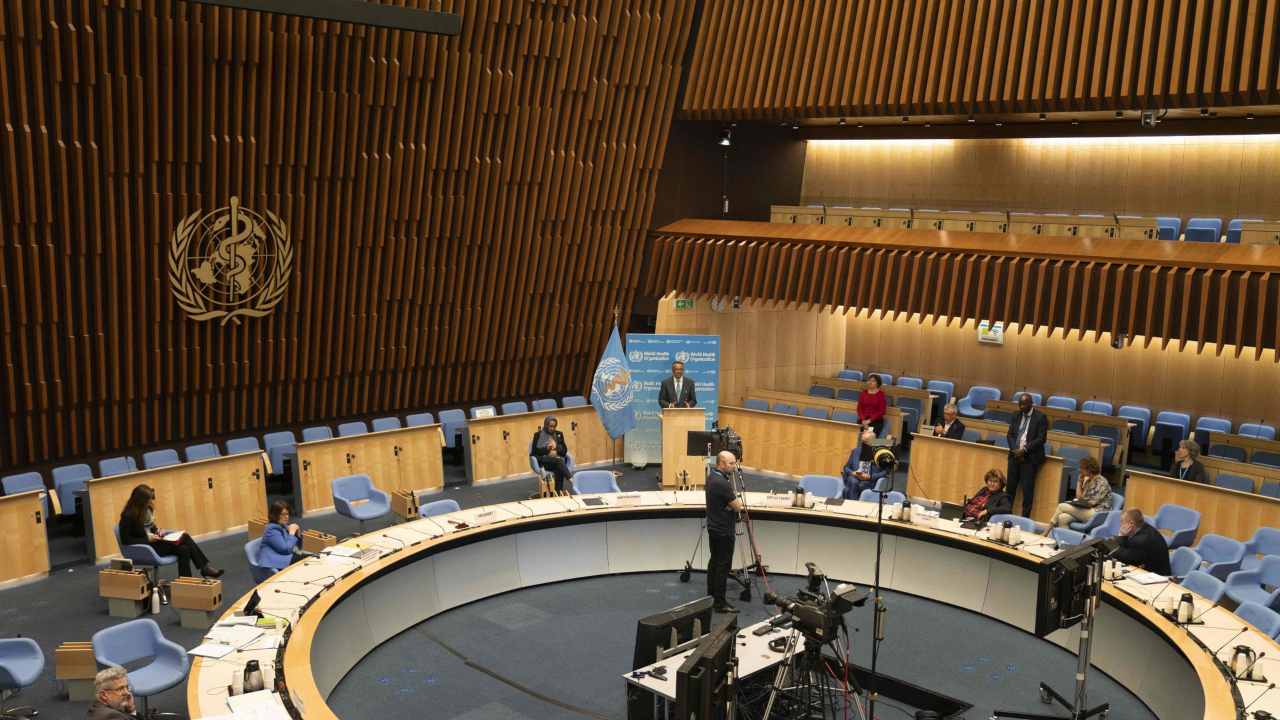 A glimpse of the virtual WHO Assembly in Geneva. Image WHO
Now more than hundred countries are behind it. Taiwan had been an observer at the WHA in past years when its relations with China were warmer, but China has taken a hard line since the 2016 election of independence-leaning Taiwanese President Tsai Ing-wen.
Taiwan had said it wanted to share with the world its successful experience at fighting the coronavirus, having only reported 440 cases and seven deaths thanks to early detection and prevention work.
Washington is locked in an increasingly bitter spat with Beijing, where the pandemic began late a year ago.
The US was also unable to persuade delegation leaders of other countries, who spoke on Monday to concertedly press for a probe against the WHO.
New Zealand in particular has angered Beijing for both backing Taiwan's participation in the meeting, and joining over 60 countries in calls for an worldwide investigation on the origins of COVID-19.
Zhao Lijian, China's Foreign Ministry spokesperson, said the resolution is "a totally different thing from what's been called an "independent" global inquiry".
"WHO had determined that the information provided by Taiwan held no value, and it neglected to respond", Taiwanese health minister Chen Shih-chung said last week.
FBI Connects Pensacola Gunman to al-Qaeda
He was found with a second damaged phone, which led investigators to believe there was important information on the devices. Alshamrani was killed by a sheriff's deputy after his rampage at a classroom building.