Rescuers race to save scores of stranded whales in Australia
by Lorene Schwartz
in People
— Sep 24, 2020
A rescue team in Australia is attempting to save as many pilot whales as possible after more than 270 became stranded in waters off the coast of Tasmania.
The challenge will be what to do with those animals once they are refloated.
The rescue operation is ongoing, with about 60 people involved in the effort.
Kris Carlyon, a wildlife biologist at the Marine Conservation Programme, said "about a third" of the animals were already dead and rescuing survivors would be a "challenging" task likely to take several days.
The stranding of about 470 pilot whales on Tasmania's west coast is the largest recorded in the state's history, authorities say.
"In terms of the tides, when we start making an effort tomorrow it will be with an outgoing tide, so that'll be in our favour, but obviously tides go up and come down so we'll be aiming to make the most of the windows that we have", Deka said.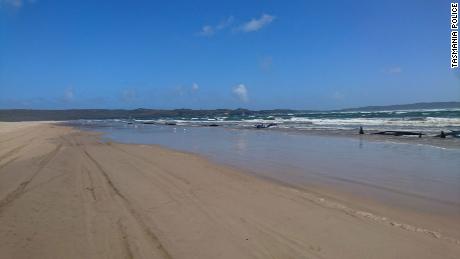 In this handout provided by Tasmania Police, hundreds of pilot whales are seen stranded on a sand bar on September 21, 2020 in Strahan, Australia.
"If conditions stay the same they can survive for quite a few days".
According to NPR, Tasmania has more whale strandings than any other Australian state, and Macquarie Harbour, where the pilot whales are now, is one of the most common stranding sites.
Rescuers had to get in the icy water to attach the whales - a species of oceanic dolphin that grow to 7 meters long and can weigh up to 3 tons - to slings and then guide the animals as boats dragged them out to deeper water.
Mr Deka said about one third of the whales had already died as of Monday evening and most were inaccessible by boat. "Nic Deka, incident controller from the Tasmanian department of primary industry, parks, water and environment, told reporters it appeared from the air that about 25 of 30 whales stranded near Ocean Beach, outside the heads, have died". "They are wet, they are cool, and today we have some really suitable weather for them", Carlyon said.
"Their social groups and strong bonding between the groups causes often all of them to strand", Olaf Meynecke, a whale researcher and Project Manager of whales and climate at Griffith University, told Reuters News Agency. With the clock ticking, they're forced to triage by starting with whales that have the best chance of success, said Carlyon. They are working in shifts and wearing wetsuits to prevent hypothermia.
Microsoft is purchasing ZeniMax Media/Bethesda for $7.5 billion
Pricing of the consoles is similar, and PlayStation is thought to have an edge but players are strongly driven by game content. Traditionally, manufacturers buy up studios to tempt gamers to their platforms with exclusive releases.