Apple puts Taiwanese supplier Pegatron on probation over student workers
by Claude Bryan
in Markets
— Nov 10, 2020
Apple said Monday it has halted business with supplier Pegatron after discovering labor violations at a student workers' program.
The world's most valuable company is in the middle of producing four new iPhone models with 5G, and has been working with Pegatron to expand iPhone assembly outside of China.
Employees are also said to have lived in substandard dormitories, as well as working significantly longer hours than was claimed. Pegatron said that it took quick action and will avoid such future incidents by carefully assessing and monitoring its staff who oversees such tasks.
Apple said that a few weeks ago it discovered that Pegatron had misclassified some student workers which allowed them to work nights and overtime in violation of Apple's Supplier Code of Conduct.
Apple has now placed Pegatron on probation and Pegatron won't receive new contracts from Apple until the situation settles.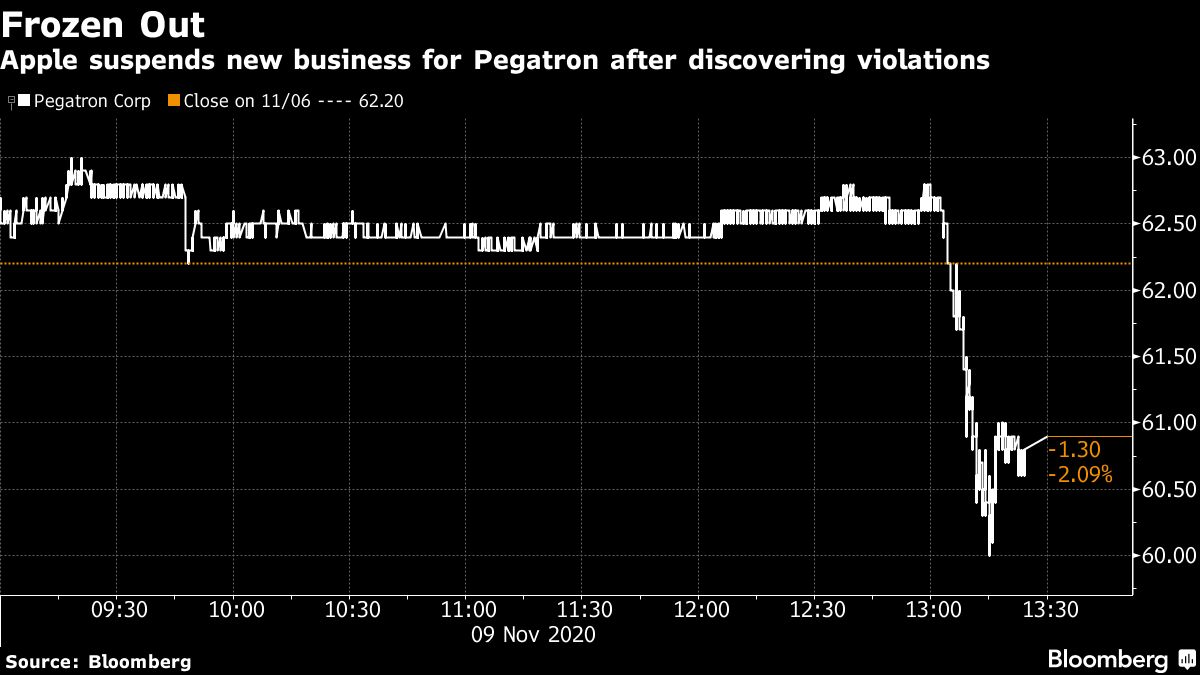 This isn't the first time Apple has faced supply chain trouble - in September 2019, it emerged that Apple and Foxconn, its biggest supplier, broke Chinese labor laws by employing too many temporary workers. Pegatron's shares gave up gains and closed Monday down 2.1% in Taipei, while Luxshare finished up nearly 1% in Shenzhen.
"Pegatron's current iPhone business should not be affected", GF Securities analyst Jeff Pu told Bloomberg.
Taiwanese firm Pegatron had asked students to work night shifts and overtime at one of is plants in mainland China, the USA company said. However, the company is said to be in the process of testing, and will not be able to win any new business from Apple until the issue is resolved.
According to Apple, the Taiwanese company misclassified student workers and allowed some to work nights and overtime, and this was in violation of Apple's Supplier Code of Conduct.
Pegatron acknowledged that the problem was uncovered by Apple's monitoring programme, and said it had subsequently taken immediate action. Furthermore, an investigation from Apple has not found any evidence of forced or contracted labor of underaged individuals. But it could still dent the manufacturing company in its future work with Apple. The company said it has since removed the student workers from production lines and made arrangements for them to return home or school with proper compensation.
Oklahoma Says COVID-19 Case Rise Due in Part to Glitch
There are now six patients at the alternate care facility set up at Wisconsin State Fair Park. 46 people are now quarantined. She urges people to continue to exercise caution when in public - mainly by maintaining social distance and wearing masks.