Czech police hunt two men wanted over Salisbury novichok poisonings
by Florence Jennings
in Sport
— Apr 18, 2021
The names matched those used by the two suspects in the attempted poisoning of former Russian spy Sergei Skripal and his daughter Yulia with the Soviet-era nerve agent Novichok in the English city of Salisbury in 2018.
Police officers in the Czech Republic seek two Russian nationals who used passports registered to Alexander Petrov and Ruslan Boshirov.
Czech police's organised crime unit published on Saturday photographs of two foreign citizens were using Russian passports and were identified as Alexander Petrov, 41, and Ruslan Boshirov, 43.
The explosion, which took place on October 16, 2014 in a depot in the town of Vrbetice where 50 metric tons of ammunition was stored, claimed two victims.
Moscow called the announcement a "hostile step" and alleged it bore a "trace" of involvement by Washington.
Police said both men were believed to have been in the Czech Republic from October 11 until October 16, 2014, the day of the explosion.
Interior Minister Jan Hamacek, who is also serving as the country's foreign minister, said the 18 Russian embassy staffers were clearly identified as military spies on behalf of the Kremlin and had 48 hours to leave the country.
According to Czech police they were first in Prague, and later in the Morovian-Silesian region and then finally in the Zlin region.
Prime Minister Andrej Babis said on Saturday the Czech intelligence agencies had provided evidence about the involvement of Russian military agents in the massive explosion that killed two people.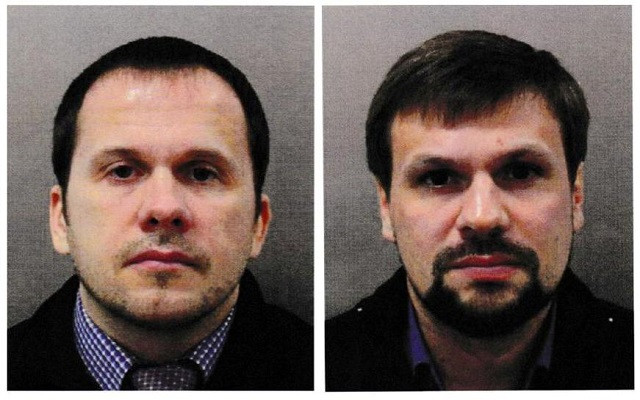 He added he had received the information on Friday, without explaining why it had taken so long.
The Czech Republic said on Sunday it had informed North Atlantic Treaty Organisation and European Union allies about suspected Russian involvement in a 2014 ammunition depot explosion and the matter would be addressed at an EU foreign ministers' meeting on Monday.
"We are as determined and committed as ever to bring those responsible for the attack in Salisbury to justice, and commend the actions of the Czech authorities to do the same".
On Sunday, the EU's executive commission confirmed remarks by acting Czech Foreign Minister Jan Hamacek on Twitter that the dispute would be addressed during a previously schedule European Union foreign ministers' video conference on Monday.
Russian Federation denied involvement but some 300 diplomats were sent home in subsequent tit-for-tat expulsions.
Moscow's response to the expulsion of 18 diplomats should be proportionate, Dzhabarov said on Saturday.
The crisis has already had a wider impact of Czech-Russian relations.
On Thursday, the Czech Republic's neighbour Poland said it had expelled three Russian diplomats for "carrying out activities to the detriment" of Poland.
Pfizer CEO: Third COVID vaccine dose likely needed within 12 months
Ms Walensky said some of these infections have occurred because the vaccinated person did not mount a strong immune response. Findings included a 91.3% vaccine efficacy against COVID-19, and over 95% efficacy against severe disease.